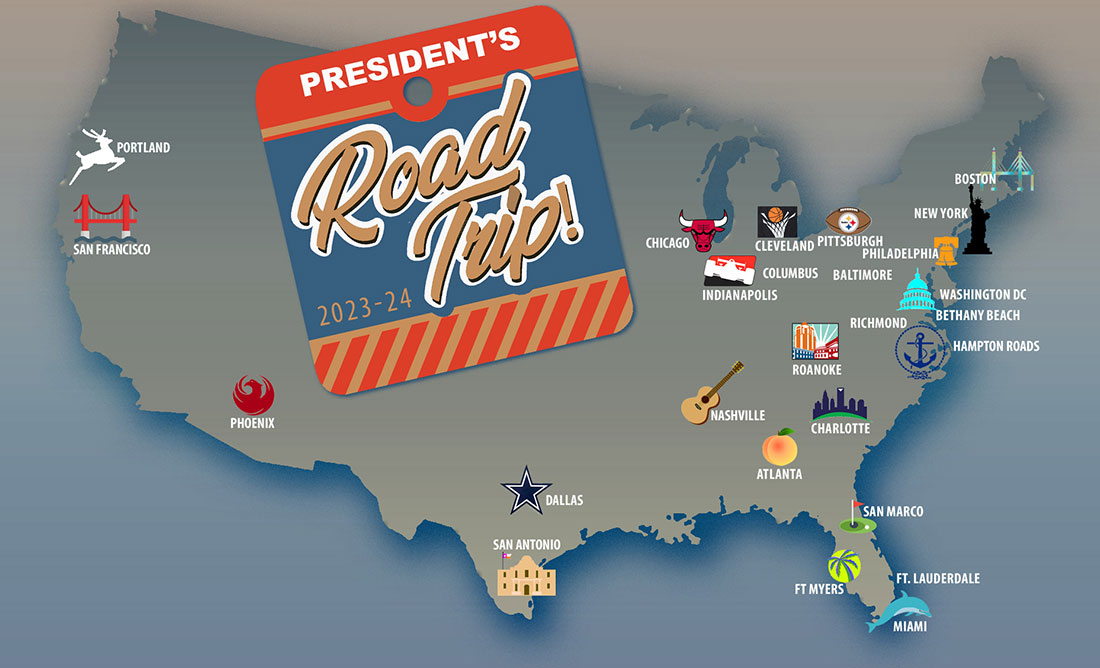 ---
President Scott D. Miller travels the country sharing his vision for the University and greeting Virginia Wesleyan University alumni, friends, and partners of the institution. Below are the dates for upcoming presidential events. Additional dates and cities will be added as they become available. For more information or to schedule an event in your area, please email alumni@vwu.edu or call 757.455.2135.
Students
President Miller welcomes opportunities to engage directly with students and to learn about their Virginia Wesleyan experience. Students are encouraged to communicate with us via email and social media as well as by appointment.

Faculty
Dr. and Mrs. Miller regularly schedule dinners with all faculty at DeFord Manor every fall semester. 

Staff
President Miller also regularly hosts "Chat 'n Chew" breakfasts and lunches with various staff departments throughout the year.
2023
Martin Luther King Jr. Day Commemoration Ceremony
January 16, 2023
VFIC Ethics Bowl
January 29-30, 2023
Batten Honors College Competition
February 9-10, 2023
Batten Honors College Competition
March 9-10, 2023
NYC Alumni & Friends Tour
March 9-12, 2023
President's Council Meeting
March 16, 2023
Spring Alumni Weekend
April 14-15, 2023
VWU Day of Giving
April 21, 2023
Baccalaureate Service
May 12, 2023
Spring Commencement
May 13, 2023
State of the University
August 18, 2023
Batten Honors College Matriculation Ceremony
August 18, 2023
Founders Day Convocation
September 7, 2023
Batten Honors College Convocation
September 7, 2023
Homecoming and Family Weekend
October 6-7, 2023
Veterans Day Ceremony
November 10, 2023
December Commencement
December 16, 2023
Past Events
December Commencement
December 17, 2022
Homecoming and Family Weekend
October 7-9, 2022
Batten Honors College Pinning Ceremony
September 9, 2022
Founders Day Convocation
September 8, 2022
Batten Honors College Matriculation Ceremony
August 19, 2022
State of the University
August 19, 2022
Commencement
May 14, 2022
Baccalaureate Service
May 13, 2022
DeFord Manor Dedication
May 11, 2022
Spring Honors Convocation
April 29, 2022
Spring Alumni Weekend
April 8-10, 2022
Brock Commons Dedication
March 17, 2022
President's Council Meeting
March 17, 2022
Batten Honors College Competition
March 3-4, 2022
VWU Global Campus Commencement Ceremony
December 18, 2021
Batten Honors College Competition
November 4-6, 2021
Athletic Hall of Fame Induction Ceremony
October 2, 2021
Homecoming and Family Weekend
October 1-3, 2021
Batten Honors College Pinning Ceremony
September 10, 2021
Susan T. Beverly Hall Dedication
September 9, 2021
Founders Day
September 9, 2021
Wesleyan Wednesday Alumni Gathering at Ballyhoos
August 25, 2021
Batten Honors College Matriculation Ceremony
August 20, 2021
State of the University
August 20, 2021
Baccalaureate
December 5, 2020
President's Council Meeting
November 12, 2020
Virtual Event
Batten Honors College Competition
November 6, 2020
Virtual Event
Arlington, VA
October 26-28, 2020
New York, NY
October 18-19, 2020
Homecoming & Family Weekend
October 2-4, 2020
Batten Honors College Convocation Ceremony
September 10, 2020
Virtual Event
Founders Day
September 10, 2020
Virtual Event
State of the University
August 21, 2020
Virtual Event
Batten Honors College Matriculation Ceremony
August 20, 2020
Virtual Event
Hofheimer Library 50th Anniversary
Celebration & Rededication
March 11, 2020
Photos
Batten Honors College Competition
March 5-7, 2020
Photos
Atlanta, GA
February 22-26, 2020
Charlottesville, VA
February 19, 2020
President's List Reception
February 18, 2020
Photos
Batten Honors College Competition
February 13-15, 2020
Photos
VFIC Wells Fargo Ethics Bowl
Lynchburg, VA
February 9-10, 2020
Photos
Athletic Hall of Fame Induction Ceremony
February 1, 2020
Photos
Marco Island, Florida
January 3-8, 2020
Houston, Texas
December 8-10, 2019
December Graduates' Recognition Ceremony
December 8, 2019
Photos
Clarke Heritage Society Recognition Luncheon
December 3, 2019
Photos
Batten Honors College Competition
November 14-16, 2019
Photos
Veterans Day Ceremony
November 11, 2019
Photos
Lake Junaluska, North Carolina
November 2-3, 2019
Philadelphia, Pennsylvania
October 20-23, 2019
Richmond, Virginia
October 4-6, 2019
Homecoming & Family Weekend
October 4-6, 2019
Photos
Alumni Awards
October 5, 2019
Photos
Founders Day Convocation
October 4, 2019
Photos
Shenandoah, Virginia
September 24-26, 2019
President's List Reception
September 17, 2019
Photos
9/11 Remembrance Service
September 11, 2019
Photos
Batten Honors College Recognition Ceremony
September 5, 2019
Photos
Marlin Nation Orientation (MNO2)
August 25-27, 2019
Photos
Batten Honors College
Matriculation Ceremony
August 23, 2019
Photos
State of the University
August 23, 2019
Photos | Video | Full Address
Wesleyan Wednesday
August 14
Photos
Fredericksburg, Virginia
August 8-9, 2019
Boston, Massachusetts
August 5-8, 2019
Washington, D.C.
July 31, 2019
New York, New York
July 23-24, 2019
Minneapolis, Minnesota
June 30-July 1, 2019
Charlottesville, Virginia
June 27, 2019
Atlanta, Georgia
June 24-25, 2019
Roanoke, Virginia
June 22-23, 2019
Marlin Nation Orientation (MNO1)
June 21 & 24, 2019
Photos
Washington, D.C.
June 17-18, 2019
Louisville, Kentucky
June 4-6, 2019
Staunton, Virginia
May 20-21, 2019
Arlington, Virginia
April 29-May 1, 2019
Chicago, Illinois
April 24-27, 2019
Tempe, Arizona
February 10-13, 2019
Scottsdale, Arizona
January 3-8, 2019
Atlanta, Georgia
January 23-26, 2019
Washington, DC
February 3-6, 2019
Harrisonburg, Virginia
November 7-8, 2018
Boston, Massachusetts
October 22-23, 2018
Charlottesville, Virginia
October 19, 2018
New York, New York
October 14-15, 2018
Homecoming and Family Weekend
October 5-7, 2018
Ashland, Virginia
October 2, 2018
Harrisonburg, Virginia
September 24-26, 2018
President's List Reception: Fall 2018
September 18, 2018
Photos
9/11 Remembrance Gathering
September 11, 2018
Photos
Founders Day
September 6, 2018
Photos
Regional Fiber Ring: Celebrating Progress in Connecting The Region
September 5, 2018
Photos
Marlin Nation Orientation (MNO2)
August 26-28, 2018
Photos
Batten Honors College
Matriculation Ceremony
August 24, 2018
Photos
Smartflower Solar Ribbon Cutting
August 24, 2018
Photos
State of the University
August 24, 2018
Photos
Marlin Nation Orientation
June 22 & 25, 2018
Photos
Fanfest with the Champs
Virginia Beach, Virginia
June 14, 2018
Photo
NCAA Division III Softball Championship
Oklahoma City, Oklahoma
May 24-29, 2018
Photos
2018 Commencement Ceremony
May 19, 2018
Photos
2018 Baccalaureate Service
May 18, 2018
Photos
Virginia Beach, Virginia
Wesleyan Wednesday/Graduation Edition
May 17, 2018
Charlotte, North Carolina
May 10, 2018
Photos
Employee Appreciation Breakfast
April 19, 2018
Photos
President's List Reception
March 6, 2018
Photos
Washington, D.C.
Chesapeake Bay Foundation
Dc On The Half Shell
February 26, 2018
Photos
Batten Honors College
Competition
February 2018
Photos
Virginia Beach, Virginia
February 1, 2018
VWU Athletic Hall Of Fame
Induction 2018
January 20, 2018
Photos
Elizabeth River Project
River Stars Recognition
January 25, 2018
Photos
Richmond, Virginia
January 24, 2018
Photos
Indianapolis, Indiana
January 17-18, 2018
Photos
Hollywood, Florida
January 3-8, 2018
Photos
December Graduates' Recognition Ceremony and Reception
December 10, 2017
Photos
Dallas, Texas
December 3-5, 2017
Photos
Groundbreaking: Susan S. Goode Fine and Performing Arts Center
December 1, 2017
Photos
Clarke Heritage Society Luncheon
November 28, 2017
Photos
Norfolk, Virginia
a November 2, 2017
Photos
Homecoming and Family Weekend
October 6-8, 2017
Photos
Chicago, Illinois
September 28, 2017
Photos
Signing Ceremony:
Westminster-Canterbury
Lifelong Learning Institute
September 26, 2017
Photos
Emory, Virginia
September 20-21, 2017
Photos
Founders Day
September 7, 2017
Photos
State of the University
August 22, 2017
Photos | Video | Full Address
Norfolk Botanical Garden
Signing Ceremony
July 31, 2017
Photos
Cheers with Champs: Richmond
Alumni Gathering
July 27, 2017
Photos
Meeting with Gov. Mcauliffe
Richmond, Virginia
July 27, 2017
Photos
Nashville, Tennesee
July 23-26, 2017
Photos
Boston, Massachusetts
July 18, 2017
Photos
Washington, D.C.
June 19-20, 2017
Hot Springs, Virginia
June 9-11, 2017
Photos
Cheers with Champs:Virginia BeachAlumni Gathering
June 6, 2017
Photo
NCAA Division III Softball Championship Tournament
May 27-29, 2017
Photos
Charlottesville, Virginia
April 30, 2017
Photos
Washington, D.C.
April 18, 2017
Photos
Alumni Weekend
April 7-8, 2017
Photos
Guadalajara, Mexico
March 29-April 1, 2017
Photos
Washington, D.C.
March 11-14, 2017
Photos
Virginia Beach, Virginia
March 9, 2017
Photos
Batten Honors College
Competition
February 2017
Photos
Washington, D.C.
January 29-February 1, 2017
Photos
The Learning House
Signing Ceremony
January 26, 2017
Photos
President's Reception
Winter Session
January 23, 2017
Photos 1 2 3 4 5 6
Nashville, Tennessee
January 18-20, 2017
Photos 1 2 3 4 5 6
Richmond, Virginia
January 17, 2017
Photos 1 2 3 4 5 6
Chesapeake, Virginia
December 11, 2016
Photos
Atlanta, Georgia
December 4, 2016
Photos 1 2 3
Dallas/Fort Worth, Texas
December 5-6, 2016
Photo 1
Chat 'N Chew
December 2, 2016
Photo 1
Student Roundtable
November 30, 2016
Photo 1