Academic Administration
Provost and Vice President
Dr. Timothy G. O'Rourke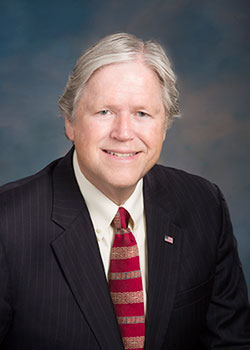 Dr. Timothy G. O'Rourke is Provost and Vice President at Virginia Wesleyan University. He previously served, since 2007, as the University's Vice President and Kenneth R. Perry Dean of the University. Dr. O'Rourke holds a B.A. from the University of Pittsburgh (Phi Beta Kappa, Summa cum laude); and an M.A. and Ph.D. in Political Science from Duke University. He has worked at nearly every level of higher education: vice president (Virginia Wesleyan University), dean (Salisbury University), endowed professor (University of Missouri-St. Louis), and department head (Clemson University). He is presently directing a four-institution Teagle Foundation-funded project on liberal arts curricular reform. He regularly teaches a first-year course on American politics at Virginia Wesleyan.
Dr. O'Rourke is co-author of State and Local Government: The Third Century of Federalism and author of The Impact of Reapportionment. His articles on electoral law have appeared in Political Geography, the Virginia Law Review, and the Journal of Law & Politics. He has testified on voting issues before U.S. Senate and House committees; the U.S. Supreme Court has cited his work as an expert witness. He has staffed electoral reform commissions in Virginia Beach and Charlottesville and the St. Peters (Missouri) Charter Commission, which drafted a home rule charter for that city. From 1998 to 2002, he directed Kids Voting Missouri, a program in which nearly 68,000 Missouri K-12 students voted alongside their parents in the 2000 presidential election. While teaching at the University of Virginia, he served as Executive Director of the Virginia Commission on the Bicentennial of the U.S. Constitution.
A Pennsylvania native, Dr. O'Rourke is a folk musician, jogger, gardener, and inveterate Pittsburgh Pirates fan. He and his wife, Judy, an artist, have five grown children and four grandchildren and reside in Virginia Beach, Virginia. 
More Information on Dr. O'Rourke
Associate Provost
Dr. Maynard Schaus
Dr. Maynard Schaus is Associate Provost of Virginia Wesleyan University. He has a Ph.D. in Zoology from Miami University (Ohio) and a B.S. in Biology from California Lutheran University. Previously at Virginia Wesleyan, he served as the Chair of the Division of Natural Sciences and Mathematics and was the Director of Undergraduate Research. He also has taught Principles of Biology, General Ecology, Humans and the Environment, Topics in Tropical Biology, and other courses.
Dr. Schaus' research has primarily focused on the role of fish in freshwater nutrient cycles. He has received funding from the St. Johns River Water Management District to investigate the impact of gizzard shad on the water quality of Lake Apopka, Florida. He has also involved students in research projects examining salt marsh bird community composition, runoff from green roofs, and the behavior of harvestmen (daddy longlegs) in Costa Rica and Belize. His work has been published in journals such as Freshwater Biology, Ecology, Limnology & Oceanography, and the Transactions of the American Fisheries Society.
Dr. Schaus is originally from Southern California and lives in Norfolk, with his wife, Kathy, and their youngest daughter. Their oldest daughter and son attend college in Washington State and Florida, respectively.
More Information on Dr. Schaus
---
Dean of the Batten Honors College
Dr. Joyce Easter
Dean of the Susan S. Goode School of Arts and Humanities
Dr. Travis Malone
Kenneth R. Perry Dean of the Joan P. Brock School of Mathematics and Natural Sciences
Dr. J. Christopher Haley
Dean of the Birdsong School of Social Science
Dr. Linda Ferguson
Assistant Provost
Deborah Hicks
Associate Dean for Innovative Teaching and Engaged Learning
Denise Wilkinson
University Advising Coordinator
Lauren Frantz
Administrative Assistant to the Academic Schools
Christine Pritchard
Executive Assistant to the Provost and Vice President
April Christman
Administrative Assistant to the Susan S. Goode School of Arts and Humanities
TBA
Administrative Assistant to the Joan P. Brock School of Mathematics and Natural Sciences
TBA