2018-2019 Theatre Productions
From student-directed one-act plays to Shakespeare, the presentation of live theatre productions is an essential component of the theatre major at Virginia Wesleyan.
Unless otherwise noted, all theatre productions are held in the Hofheimer Theatre in the Fine Arts Building.
Tickets:
$10-15, public. 
Free to VWU community with ID. 
October 24-27 - 7:30pm, October 28 - 2:00pm (Hofheimer Theater)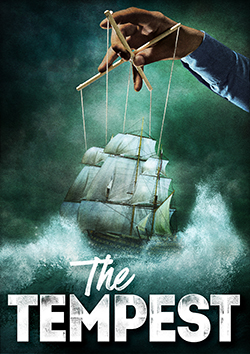 The Tempest by William Shakespeare
Hofheimer Theater opened in the fall of 1981 with The Tempest. What better way to bid farewell to this mainstage space than with a revisit of Shakespeare's classic.  Along with student, faculty, staff and alumni contributors, Dr. Rick Hite, Emeritus Professor of Theatre plays Gonzalo, Khari Johnson (VWU'16) plays Prospero, and Dr. Martine Kei Green-Rogers (VWU'02) serves as dramaturg.  With this production "our revels now are ended" in Hofheimer.  ($15; $10)
Reservations: www.showtix4U.com / theatretix@vwu.edu  
November 30-December 1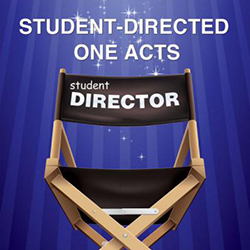 Fall One-Act Play Festival
VWU Theatre students produce and direct a variety of plays from thought-provoking dramas to side-splitting comedies.
(Play titles and performance schedule to be announced.)
April 11-13, 2019 - 7:30pm; April 14 - 2:00pm (Goode)
Legally Blonde - The Musical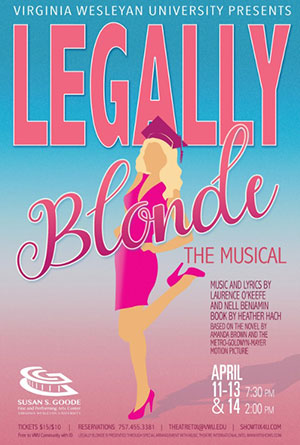 Virginia Wesleyan University presents "Legally Blonde - The Musical" as the first theatre production in the Susan S. Goode Fine and Performing Arts Center. Elle Woods appears to have it all when her boyfriend dumps her so he can start getting serious about his life and attend Harvard Law. Determined to get him back, Elle uses her charm and hard-work to get into Harvard Law. At school, she struggles against social prejudice, peers, professors, and her ex. On the journey, Elle discovers that helping others and being true to yourself "never goes out of style." Equal parts hilarious and heart-warming, this award-winning musical is so much fun it should be illegal! Music and Lyrics by Laurence O'Keefe and Nell Benjamin; Book by Heather Hatch based on the popular novel and MGM film. Presented through special arrangement with Music Theatre International (MTI). $15 Adults, $10 student/Senior/Military, Free to VWU students, faculty, and staff
Directed by: Dr. Travis Malone