D. Henry Watts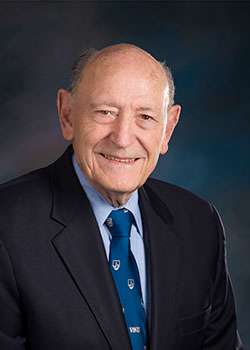 The D. Henry Watts School of Professional Studies is named with gratitude for longtime Trustee Henry Watts, recognizing over three decades of leadership and support of Virginia Wesleyan and his outstanding contributions to the Hampton Roads business community.

Dr. Watts has been a member of Virginia Wesleyan's Board of Trustees since 1989.  He is a past Board Chair and Parliamentarian, and in 2007, received an honorary Doctor of Laws degree from the University. An avid fan of Marlin athletics with his wife, Eleanor, Dr. Watts also serves as Trustee representative to the Athletic Hall of Fame Committee. The Watts are frequently on campus cheering for Marlin basketball and supporting VWU's National Champion softball team.

A retired Vice Chairman of Norfolk Southern Corporation, Dr. Watts has also been very active in the community. He has served on the Board of the Virginia Opera and the Norfolk Airport Authority Board of Commissioners, and he and his wife are active members of Virginia Beach United Methodist Church.

The Watts' generosity to Virginia Wesleyan has taken many paths including the recent dedication of the Eleanor and Henry Watts Grand Lobby and Gallery in the new Susan S. Goode Fine and Performing Arts Center.  They have also supported the Center for the Study of Religious Freedom, the Eleanor and Henry Watts Endowed Scholarship, and the Marlin Athletic Fund.