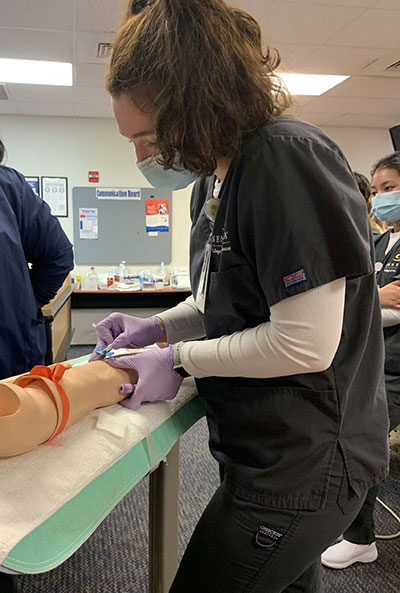 How did you decide that the VWU/Sentara joint nursing program was for you?
I first learned about the program after I had already applied to go to Virginia Wesleyan, I always knew I wanted to do something in the medical field but I never had a solid idea of what exactly that was. When I heard about this new program-- the timing couldn't have been more right and I knew that it was my calling!
How has your experience in the program been so far?
I was super excited to have the opportunity to be in the first group of students that could earn this joint degree with Sentara. My experience so far has been wonderful, everyone I have been in contact with has wanted to see me succeed in the program and have really gone out of their way to help me with any questions or issues I have had.
What courses have you taken?
The courses for the program are mostly science classes like chemistry, anatomy, and microbiology, but since it is a dual degree, we still are required to take up to a 300 level seminar class here at VWU.
What are you most looking forward to?
I'm really looking forward to doing my clinical rotations at Sentara in the hospital and learning how to make a difference in people's lives the best I can.
This program is academically challenging; what resources were offered to you at VWU to help you navigate your first few semesters in the program?
I made really good use of the tutors that the Learning Center at VWU offered, especially in chemistry. I also spent a lot of time with my professors before and after class when I needed extra help. They always went out of their way to help me if I asked.
Since this is a joint program, you are still a VWU student while also a Sentara student-- what are the benefits of being able to access both campuses?
Since Sentara doesn't have any sports teams, it's nice to be able to come back to Wesleyan and watch the sporting events and still feel like I'm a part of the Marlin community on VWU's campus.
What has been the most challenging part of the program so far?
The most challenging part of the program was to adapt to another school's style of teaching and to rework the way I learn to be more hands-on. At Sentara, a big part of student success is in our clinical rotations and skills labs.
What has been your favorite part of the program?
My favorite part of the program was the friends I made at Wesleyan—the ones who went through the program with me. The first few weeks at Sentara were challenging and moved really quickly, and it really helped that we had each other for support.
What are your plans for the future?
I hope to graduate from this program in 2024. Once I'm officially an RN, I'm hoping to eventually work in a neuro ICU or be a travel nurse.