Virginia Wesleyan To Host 2019 Model NATO Challenge
Twenty-nine students represent 29 nations in scholarship competition on March 20
University News | March 14, 2019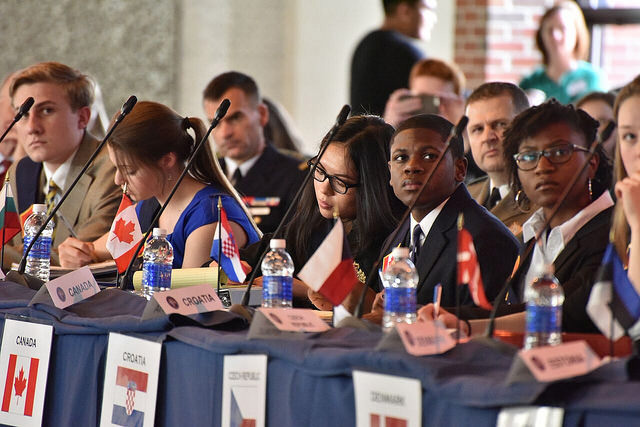 Virginia Wesleyan's partnership with the North Atlantic Treaty Organization-Allied Command Transformation (NATO-ACT) brings the 2019 Model NATO Challenge back to campus on Wednesday, March 20. Local high school juniors and seniors from Coastal Virginia will gather in VWU's Boyd Dining Center to compete as student diplomats in the Challenge, a simulation that asks the students to respond to a real-life global crisis.
Each student will represent one of the 29 NATO Member Nations in the Challenge, which simulates real world issues faced by today's NATO Alliance. The top candidates will receive a scholarship award to be applied toward the college or university of their choice. In addition, select high school students will also participate in the Model NATO Press Corps, which provides opportunities for burgeoning journalists to cover the event action in a live media role.
Virginia Wesleyan's involvement in the Challenge stems from the University's formal agreement with NATO-ACT, officially signed in 2013, which offers up to 25 International Student Grants of $9,000 per semester ($18,000 per year) to dependents of NATO-ACT employees stationed in Norfolk. In return, NATO-ACT offers their staff's expertise to the VWU community in the form of guest lectures, internship opportunities, experiences with NATO's Innovation Hub, and NATO simulation opportunities like the Model NATO Challenge.
"The student diplomats, mentored by NATO officers from each of the 29 member nations, address realistic crisis situations that could be taken from tomorrow's headlines," says VWU Provost Timothy O'Rourke. "The University is honored to host this extraordinary event for the fifth time and to partner with NATO-ACT on other mutually beneficial initiatives that provide powerful educational opportunities for both high school and college students and greatly enrich both our organizations."
Headquartered in Norfolk, ACT is NATO's leading agent for change, driving, facilitating, and advocating continuous improvement of Alliance capabilities to maintain and enhance the military relevance and effectiveness of the Alliance. The organization's strategic objectives include providing appropriate support to NATO missions and operations; leading NATO military transformation; and improving relationships, interaction and practical cooperation with partners, nations and international organizations.
Virginia Wesleyan and the Norfolk NATO Festival invite friends, families, students and educators to attend the 2019 Model NATO Challenge simulation Wednesday, March 20 at 4 p.m. in the Boyd Dining Center on the VWU campus. For more information, visit https://www.vafest.org/norfolk-nato-festival/education/model-nato-challenge/.