Virginia Wesleyan Championed as a 'College of Distinction'
University recognized nationally for its high-impact approach to education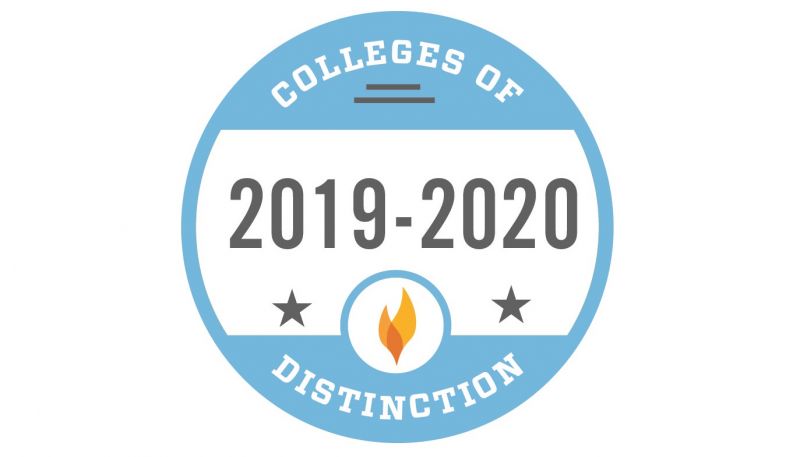 University News | May 29, 2019
Virginia Wesleyan University has again received national recognition for the integrity of its individualized and engaging education. As an institution whose primary goals are based on student success and satisfaction, the University has been honored among the 2019-2020 Colleges of Distinction.
This award is unique among popular college guide classifications, which typically rank schools on the basis of endowment and selectivity. Virginia Wesleyan instead earned its recognition for the excellence exhibited in the classroom, incorporating High-Impact Practices throughout every student's undergraduate education. Such student-centered programs include first-year seminars, community-based learning programs, service-learning programs, alternative spring breaks, diversity and global learning programs, interdisciplinary programs, undergraduate research, living-learning communities, capstone projects, study away programs, and internships.
"We are so proud to see Virginia Wesleyan University walking the walk," said Tyson Schritter, Chief Operating Officer for Colleges of Distinction. "Colleges of Distinction knows that a truly valuable education can't be measured by rank or reputation. Students learn and thrive best when they embrace hands-on learning in a vibrant, welcoming community. That's why it's so encouraging to find VWU taking such an innovative approach with its curriculum: its High-Impact Educational Practices ensure that the undergraduate experience is worthwhile and unique."
VWU also received specialized recognition for its programs in Business, Education, and Career Development. These programs are comprehensive not only in course material, but also in practical- and soft-skills development—blending a liberal arts education with program-specific training and abundant opportunities for real-world application.
Colleges of Distinction's selection process consists of detailed interviews and research for each institution's freshman experience and retention efforts alongside its general education programs, career development, strategic plan, student satisfaction, and more. Schools are accepted on the basis that they adhere to the Four Distinctions: Engaged Students, Great Teaching, Vibrant Community, and Successful Outcomes.
"Colleges of Distinction doesn't rank schools, because we know that every student is different in what they need to best learn, grow, and succeed," said Schritter. "Instead, we value schools that embrace those differences. Virginia Wesleyan University puts the student experience first, providing all the tools and opportunities they need to become lifelong learners who are ready to take on any challenge in today's ever-evolving society."