On Deck Premier Speaker Series Brings Impressive Events to Campus
Mark your calendars for distinguished lineup of speakers and topics for spring 2020
University News | January 8, 2020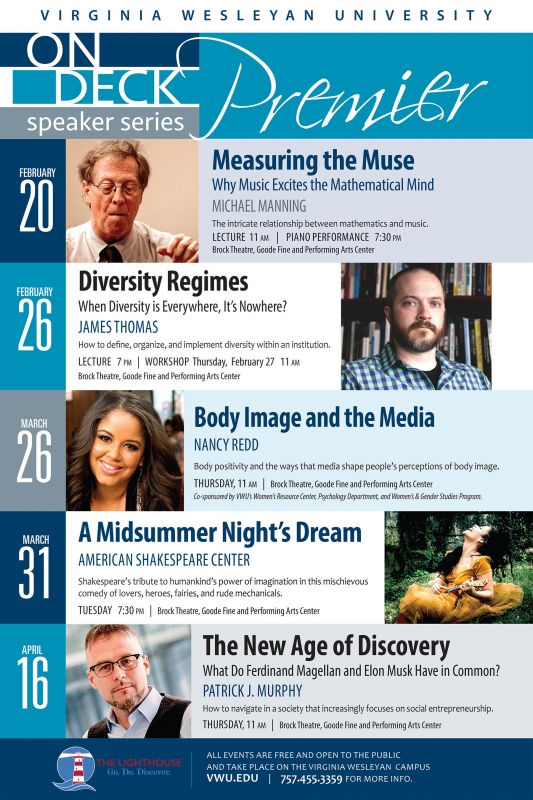 The spring 2020 On Deck Premier Speaker Series includes impressive events that promise to be interesting, informative and thought-provoking. The Series is a program of the University's Quality Enhancement Plan (QEP), organized by the VWU faculty.
Mark your calendars for these notable spring semester happenings.
The VWU Spring 2020 On Deck Premier Speaker Series:
February 6 (11 a.m. - 12 p.m. Lecture); February 7 (7:30 p.m. Performance) Susan S. Goode Fine and Performing Arts Center, Joan & Macon Brock Theatre
Peter Meineck, Military Veterans Performing Greek Tragedy
Former British Royal Marine and Theatre and Classics professor Peter Meineck will discuss the Warrior Chorus Project, a program that teaches veterans to perform works from ancient literature. Collaborating with scholars, veterans develop their own sense of artistry and interest in the humanities through performance. Thursday's talk will be followed by a performance of Greek classics by local veterans on Friday evening. More information on the Warrior Chorus Project is available at http://www.warriorchorus.org/. This event is free and open to the public. The following night (Friday, 2/7 at 7:30), a performance of the Warrior Chorus Project will occur in the same location. This event is sponsored by generous grants from the Lighthouse Center for Exploration and Discovery and Virginia Humanities.
February 11, (11 a.m.) Blocker Hall Auditorium
Sarah Browning, "Leading Social Change through Poetry"
As an activist and former community organizer--and in the spirit of Ella Jenkins, Pete Seeger, Adrienne Rich, and others--Sarah Browning uses poetry in showing possibilities for political and social change. As a co-founder and Executive Director of Split This Rock, a socially-conscious literary organization, Browning has highlighted the importance of poets working in community, so as to lead to social change. Why is poetry important to leaders today? That is the focus of this time together. Sarah Browning is author of Killing Summer (Sibling Rivalry Press, 2017), cofounder and immediate past executive director of Split This Rock, and associate fellow of the Institute for Policy Studies.
February 20 (11 a.m. Lecture; 7:30 p.m. Performance) Susan S. Goode Fine and Performing Arts Center, Joan & Macon Brock Theatre
Michael Manning, Measuring the Muse: Why Music Excites the Mathematical Mind
Pianist Michael Manning has enjoyed an eclectic professional life that encompasses academia, journalism, scientific research, software engineering, and performance. His work as Broadcast Director of WGBH, Public Broadcasting's flagship station, and with the Boston Globe earned him the industry's highest awards, including Gold Medals from the New York International Festivals and Columbia University's Major Armstrong Award. Join us at 11:00 a.m. as Manning explores how music reflects mathematics, how mathematics can be used to study music, and the deeper similarities of these two abstract intellectual frameworks. At 7:30 p.m., Manning will present a piano concert.
February 26 (7 p.m. Lecture) February 27 (11 a.m. Workshop) Susan S. Goode Fine and Performing Arts Center, Joan & Macon Brock Theatre
James Thomas, Diversity Regimes - When Diversity is Everywhere, It's Nowhere?
James Thomas is an associate professor of sociology at the University of Mississippi. His research focuses on race and racism, inequality, and empire. He is the author of four books, including the forthcoming Diversity Regimes which draws from ethnographic fieldwork at an American public university to illustrate the conflicts between core actors over how to define, organize, and implement diversity within the institution. Thomas's research has been featured in The New Yorker, The Washington Post, The Pacific Standard, and Slate Magazine. Join us on Wednesday, 2/26 at 7:00 p.m. for a lecture by Thomas and on Thursday, 2/27 at 11:00 a.m. as Thomas leads a workshop on "Coalitions for Change on College Campuses."
March 26 (11 a.m.) Susan S. Goode Fine and Performing Arts Center, Joan & Macon Brock Theatre
Nancy Redd - Body Image and the Media
The New York Times bestselling author of Body Drama and Diet Drama, Nancy Redd, will explore body positivity and the ways that media shapes people's perceptions of body image. A former Miss Virginia and swimsuit winner at Miss America, Redd is an award-winning on-air host, The New York Times's Wirecutter beauty and health writer, and an NAACP Image Award nominee. This event is held in conjunction with National Eating Disorder Awareness Month and Women's History Month. It is co-sponsored by VWU's Women's Resource Center, Psychology Department, and Women's & Gender Studies Program.
March 31 (7:30 p.m.) Susan S. Goode Fine and Performing Arts Center, Joan & Macon Brock Theatre
American Shakespeare Center, A Midsummer Night's Dream
The world-renowned American Shakespeare Center takes up residency to perform Shakespeare's timeless masterpiece. In Midsummer, there are no easy solutions, no black and white, no good guys or bad guys. In Midsummer, love is not a thing to be won, but is rather a thing to be lost, to fight for, and to regain. The American Shakespeare Center casts a theatrical spell powerful enough to make audiences of all ages believe in anything. This mischievous comedy of lovers, heroes, fairies, and rude mechanicals is his tribute to humankind's power of imagination, and it reveals that the course of true love can be altered with just one touch of magic.
April 16 (11 a.m.) Susan S. Goode Fine and Performing Arts Center, Joan & Macon Brock Theatre
Patrick J. Murphy, The New Age of Discovery: What Do Ferdinand Magellan and Elon Musk Have in Common?
Professor and Goodrich Endowed Chair for Innovation and Entrepreneurship at the University of Alabama, Patrick J. Murphy explores how to navigate in a society that increasingly focuses on social entrepreneurship in every aspect of life. During the last twenty years, many Americans shifted their self-understanding from an industrial/organizational paradigm to one that is primarily entrepreneurial. This talk highlights how shifts today are illuminated by travelers during the Age of Discovery and through the vision they had and the mutinies they encountered.
April 17 (7:30 p.m) Susan S. Goode Fine and Performing Arts Center, Joan & Macon Brock Theatre
"Queen's Six" in Concert
Based at Windsor Castle, Queen's Six members are Lay Clerks of Windsor Castle's St. George Chapel who perform regularly for the British Royal Family. They perform repertoire that spans austere Medieval chant, florid Renaissance polyphony, lewd madrigals, haunting folk songs, upbeat jazz, and pop arrangements of modern classics. Co-sponsored by the VWU Concert Series.
All events, which take place on VWU's campus, are free and open to the public, unless otherwise noted. For more information about the On Deck Premier Speaker Series, contact Executive Director of The Lighthouse and Director of the QEP Sara Sewell at 757.455.3237 or ssewell@vwu.edu.