Mid-Year Graduates Honored
University's first MBA graduates among those celebrated at recognition ceremony Dec. 9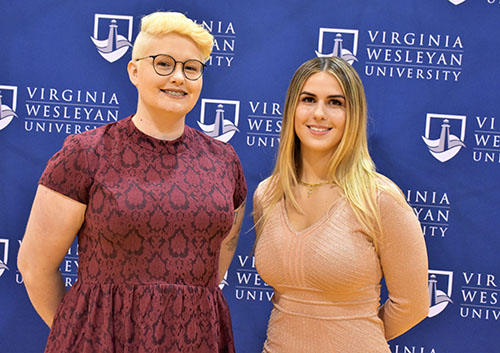 University News | December 9, 2018
Photo Gallery: December Graduates' Recognition Ceremony
Approximately 40 Virginia Wesleyan University students were recognized December 9 during the 2018 December Graduates' Recognition Ceremony.
Family, friends, and faculty gathered in the Convocation Hall of the Jane P. Batten Student Center to celebrate those scheduled to graduate at the end of the fall 2018 semester as well as those who reached the milestone in August of this year. President Scott D. Miller provided welcoming remarks.
"As graduates, you are Virginia Wesleyan," he said. "We expect a great deal from you in the future and look forward to learning about your many accomplishments and the great ways you will make a positive impact on the world."
Batten Associate Professor of Psychology Taryn Myers, recipient of the 2018 Samuel Nelson Gray Distinguished Teaching Award, offered words of wisdom with her address, "Say 'Yes, and,' but know when to say 'Neigh.'" Referencing the guiding principle of improv, she encouraged students to step outside their comfort zone, to say "yes" to opportunity, then take it one step further with an "and…" Conversely, she reminded students that it is important to say "no"—or "neigh"—when the opportunity presented would be harmful in some way.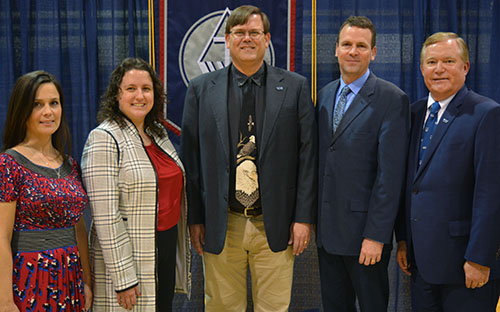 "My dearest wish for all of you graduates is that you discover what the ultimate 'yes, and' is in each of your lives," said Myers. "For some of you, it might be volunteer work, for others it might be trying a career path that differs from what you anticipate today. We are so proud of all you have done at every level of your education, and we cannot wait to see where the tools we have given you during your time here take you in the years to come. Congratulations on all you have achieved and on all the 'yes, ands' that await you outside our gates."
The ceremony was a first for Virginia Wesleyan, as the University's inaugural online Master of Business Administration graduates were recognized. Janelle Bembry and Nicolle Sacksteder earned their MBAs in August 2018, and Ariel Bright, Kamil Cak, and Kristin Rempas are candidates for graduation this month.
"I knew I wanted to get my MBA but was unsure where," said Bright, who is also a 2017 graduate of Virginia Wesleyan's undergraduate business program. "Ultimately, I went with VWU as I really enjoyed my time here, as well as the professors."
Bright, a Virginia Beach resident, earned her MBA while working full time for an international development company. They hired her with future growth in mind centered around the completion of her MBA.
"The flexibility to be able to work on my own schedule was imperative," she said of the online program.
Bright plans to begin a second master's program in data science this January to further her skillset in professional services and technical analytics.
Following individual recognition of each graduate, Jennifer Smith Boyd '94, chair of the VWU Alumni Council's Alumni Engagement Committee, welcomed students to their new status as Marlin graduates.
"Sharing a unique bond with all Virginia Wesleyan students—past, present, and future—we alumni welcome you as new graduates, and stand with you as you celebrate this milestone event," she said. "Our experiences with Virginia Wesleyan will forever connect us to you, and together to our alma mater."
The ceremony concluded with a singing of the "Alma Mater" by Marissa Phillips '19, accompanied by pianist Michelle Titus '19. A reception for graduates and their families followed in the Batten Student Center's Pearce Hospitality Suite.
August and December graduates are invited to participate in the University's 2019 Commencement Ceremony on Saturday, May 18.

View the program for the 2018 December Graduates' Recognition Ceremony
Watch archived video of the ceremony on the VWU Digital Broadcasting Network