Gaining Valuable Experience through Internships
Featured News | March 28, 2018
By Laynee H. Timlin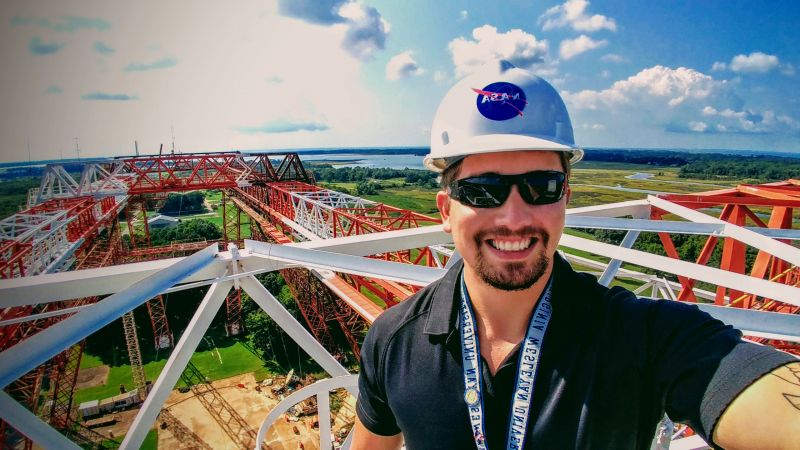 From high atop NASA's Gantry, Virginia Wesleyan senior Cody Lichvar experiences the environment where the Apollo astronauts were trained to land on the moon. This incredible experience and many others are part of Lichvar's internship with NASA Langley Research Center in Hampton, an internship that first began in February 2017 and continues through the spring 2018 semester. Majoring in Business, Lichvar received academic credit for the experience while enrolled in a Management Business and Economics (MBE 389) course during the summer of 2017.
"The work at NASA is phenomenal," says Lichvar. "And the company culture creates a great working atmosphere. I'm working as a "Pathways" employee in the government contracting field and will continue to do so until I graduate from Virginia Wesleyan in May."
The Pathways Internship Program, sponsored by the U.S. Department of State, provides students like Lichvar with opportunities to explore federal careers while being paid for the work performed. Through this experience, Lichvar has had many valuable opportunities. Climbing to the top of NASA's gantry, a 240-foot-high, A-frame massive steel structure, is certainly a memorable one. The gantry has been serving NASA for more than 50 years and still holds a vital place in research, discovery and exploration. Originally built in 1963, it was used to model lunar gravity. For Lichvar, experiences like this have been transformational.
Virginia Wesleyan's Career Development and Internship Program (CDIP) is in the business of facilitating transformational workplace experiences for students through internships. The CDIP is an integral part of The Lighthouse: Center for Exploration and Discovery, and is specifically focused on assisting students in discovering their academic and professional pathways and helping them to create plans to achieve their professional goals.
The CDIP offers vital support for students from providing one-on-one career counseling and customized programming to facilitating internship and externship opportunities and career development. The staff, including Director Mollie Dunmyer and Assistant Director Steven Young, assists students at all levels, from first-year students exploring career options to seniors preparing for post-college employment.
"Internships are an ideal way for students to gain valuable workplace experience and begin the transition from college to career," said Dunmyer. "Increasing the number of students who undertake credit-bearing internships is a primary goal of the CDIP."
Dunmyer says that all students at VWU are encouraged to complete internships for academic credit. During this spring semester alone, 86 students are enrolled in credit-bearing internships. Typically more students complete internships in the spring because of the nature of course sequencing. Pre-internship courses are offered in the fall, followed by semester-long internships in the spring. Many programs that require internships, such as business, social work, and recreation and leisure studies, adhere to this model.
The number of Virginia Wesleyan students engaged in internships is on the rise. In the 2016-17 academic year, the number of students completing internship courses rose to 157, which was a 15% increase in enrollment from the average enrollment for the previous four years. That's a trend that Dunmyer hopes will continue.
"To say that internship experiences are invaluable is an understatement," continued Dunmyer. "Now more than ever, quality and high-impact internship opportunities are at the forefront and are critical to the overall development of our liberal arts students. The experience assists us in helping students to think analytically and critically, to develop leadership qualities, to embrace the creative process, and to move forward with confidence in all that they do."
Read more about student's internship experiences at http://www.vwu.edu/academics/the-lighthouse/success-stories/#internships