Move Party Celebrates Rose Hall Refresh
Rose is the first of four residence halls to receive updates this academic year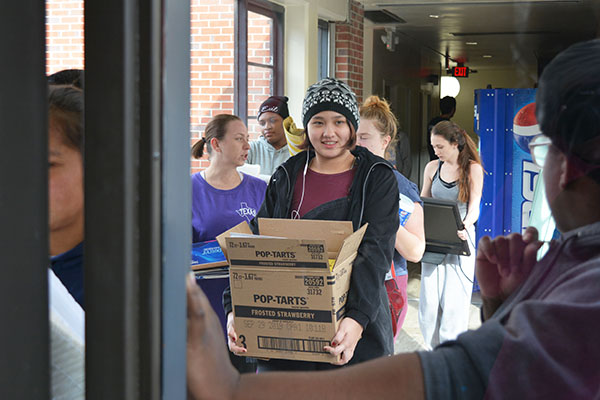 University News | December 8, 2018
Photo Gallery: Rose Hall Move Party
"Wow."
"This is so pretty."
"I'm so excited!"
Positive energy filled the air in Rose Hall December 8 as Virginia Wesleyan freshmen carried their belongings to their updated new living space. The residence hall is the first of four in Bray Village to see improvements this academic year, receiving full replacement of all showers and bathrooms, fresh paint inside and out, and corrective maintenance care.
Lugging bedding, bags, and books was made easier for students through a "Move Party," which featured music, cookies, hot cocoa, and most importantly, helping hands from Residence Life, Enrollment, the Physical Plant, and Campus Security.
"We're trying to make it a smooth and engaging experience as people are going into this brand new space," said David Stuebing, Director of Residence Life. "We want the reality of moving to also be a fun experience…so far I've seen a fair number of smiles."
The updates primarily focused on the bathrooms, said Steubing, with new plumbing, ventilation, hardware, and fixtures. The laundry room was also revamped, thanks to new piping, and a single-use restroom was added.
"The bathrooms are really nice and the walls are cool," said Megan Coe '22, referring to the colorful new wave graphic that spans the hallways. "It was really helpful to have the RAs here, and the improvements, they're very nice."
As part of the improvement process, each of Bray's residential buildings are being taken offline on a rotating basis for a period of two to three months while upgrades are made. Now that Rose is completed, attention will turn to Kellam Hall. Students in Old and Eggleston Halls will move to the most recently completed buildings as the project progresses.
From ceiling to floor, tiles to fixtures, these spaces will have a valuable impact on the experiences of the University's newest Marlins residing in these halls.
"Really what we're trying to do is provide the nicest, best space we can," said Steubing, "so that students can direct their mental and emotional reserves to hanging out with their peers, engaging in student activities, studying, and enjoying all the benefits of Virginia Wesleyan."
Constructed in 1966, Jerry G. Bray, Jr. Village (Village I) is made up of four residence halls: Louise W. Eggleston Hall, Abel E. and Clara Eaton Kellam Hall, Margarette Hanes Old Hall, and Paul Howard Rose Hall. It also contains three academic buildings: Birdsong Hall, Peter D. Pruden Hall, and Aubrey L. Eggleston Commons. The academic buildings will also receive updates as part of the overall improvement process.