Class of 2019: "Be Good and Do Good Work"
U.S. Congresswoman Elaine Luria shares memorable message with Virginia Wesleyan graduates on May 18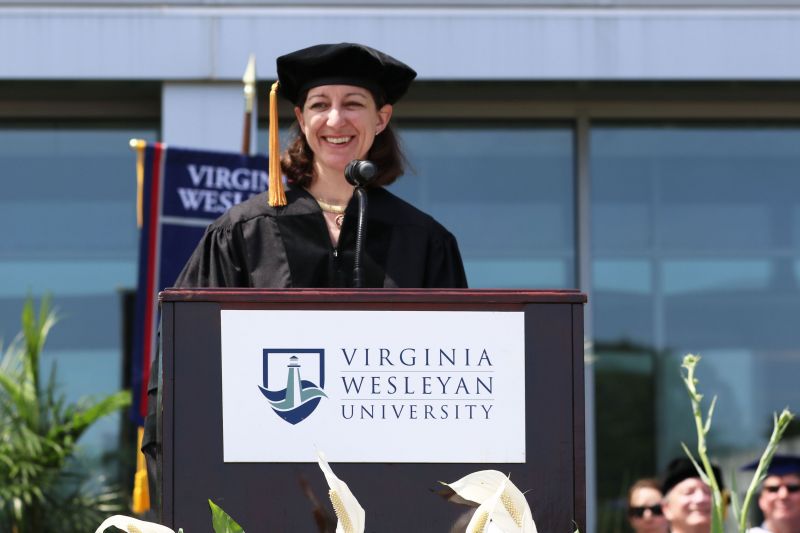 University News | May 18, 2019
Photo Gallery: Baccalaureate 2019
Photo Gallery: Commencement 2019
"I will try to leave you with a message that's easy to remember," Congresswoman Elaine Luria told the nearly 290 members of the Virginia Wesleyan University Class of 2019 on May 18. "Be good and do good work."
Rep. Luria, a retired Navy commander who represents Virginia's Second Congressional District, explained that this was her command philosophy when she commanded 400 sailors at Assault Craft Unit Two at Joint Expeditionary Base Little Creek-Fort Story in Norfolk. She credits the six-word slogan to Dr. Charles Stuppard, who used it himself as a commanding officer.
"Dr. Stuppard's words are wise and applicable everywhere, especially when you break them down into different segments of your life," she said. "Be good to your colleagues…Be good to your family…Be good to your community…And in more general terms, just be good."
She also urged graduates to do good work, regardless of the job and no matter how tedious the task.
"Show people your energy, your talents, your very best. Do good work for those employees you will eventually lead. Set the example for them to follow with not just words, but actions…Your work and potential to do good has only just begun. But for today, take a breath, enjoy it."
The Commencement Ceremony was the first to take place outdoors at Virginia Wesleyan since 2003. Families, mentors, and friends gathered on University Commons in front of the Greer Environmental Sciences Center to celebrate those earning not only undergraduate diplomas, but also the University's first master's-level degrees.
"We are delighted to have all of you with us on this most special occasion in the life of our institution and in the lives of our 2019 Marlin graduating class," said President Scott D. Miller. "After today, you will no longer be Virginia Wesleyan students, but for the rest of your lives, you will be Marlin alumni. You join our 10,000 men and women whose experiences at Coastal Virginia's premier university of the liberal arts and sciences will continue to inform careers and contributions."
President Miller and Provost and Vice President Timothy O'Rourke conferred degrees upon students earning a Master of Arts in Education, Master of Business Administration, Bachelor of Arts, Bachelor of Science, and/or Bachelor of Social Work. Graduates proudly crossed the platform to receive their diplomas as cheers from the crowd celebrated their promising futures. The University also recognized Congresswoman Luria and David Kaufman, Chair of the VWU Board of Trustees, with honorary doctoral degrees.
Four distinguished Virginia Wesleyan faculty members received awards during the ceremony. President Miller and Provost O'Rourke presented the 2019 Samuel Nelson Gray Distinguished Teaching Award to Professor of Theatre and Dean of the Susan S. Goode School of Arts and Humanities Travis Malone; The Frank and Jane P. Batten Distinguished Scholar Award to Assistant Professor of Music Bryson Mortensen; the Service and Community Engagement Award to Professor of History Clayton Drees; and the United Methodist Church General Board of Higher Education and Ministry 2019 Exemplary Teacher Award to retiring Professor of Hispanic Studies Mavel Velasco.
The ceremony concluded with the singing of the University's Alma Mater led Dr. Bryson Mortensen and Virginia Wesleyan Vox Vera, a benediction from University Chaplain Greg West, and the formal recessional accompanied by the Eastern Virginia Brass. A reception for graduates and their guests was held in Boyd Dining Center.
"This place, if it did its job, taught you how to properly balance the personal and professional," said Rep. Luria. "Work hard and don't lose sight of what makes you happy. Strive to make the world a better place."
Army ROTC Commissioning Ceremony
The traditional Army ROTC Commissioning Ceremony took place following Commencement, where new VWU graduate Gavin Steel was commissioned as a second lieutenant in the United States Army. The Commissioning Oath, Pinning of Gold Bars, and First Salute/Silver Dollar Ceremony followed opening remarks from Lieutenant Colonel Rhana S. Kurdi, Professor of Military Science, and Scott D. Miller, President of the University. Second Lieutenant Steel will serve in the Virginia Army National Guard.
The Marlin Company, previously the Marlin Detachment, was established at VWU in February 1998 and operates as part of Old Dominion University's Monarch Battalion.
Commencement Video
Video recordings of the 2019 Baccalaureate Service and Commencement Ceremony are archived on the VWU Digital Broadcasting Network.
Commencement Photography
Lifetouch Special Events Photography photographed each graduate crossing the platform, which will be available for purchase if desired. A link to commencement photograph proofs will be sent to participating graduates via email. For more information, visit events.lifetouch.com/vwu or contact specialevents@lifetouch.com or 800-505-9496 Monday-Friday, 8:00 a.m.-6:00 p.m. EST.