Make Way for Port Day
Campus community celebrates students' capstone research, internship, and study-away experiences

University News | December 5, 2018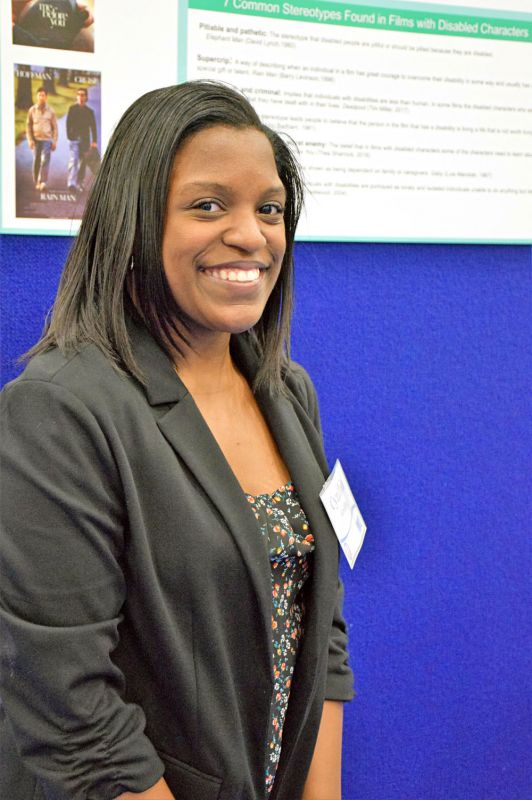 Photo Gallery: Fall 2018 Port Day
On December 4, the campus community actively engaged in Port Day, a signature Virginia Wesleyan event held each semester. Port Day provided the opportunity to celebrate the academic achievements of students completing capstone undergraduate research, internship, and semester study-away experiences.
Throughout the day, students shared their academic work through presentations, posters, speeches, discussions and panels. Student presenters represented Virginia Wesleyan's academic schools and a variety of majors and experiences on campus, in the community, and around the world.
The schedule for the campus-wide, conference-style celebration of scholarship included presentations from VWU Global Scholars and students in the Goode School of Arts and Humanities, Brock School of Mathematics and Natural Sciences, and Birdsong School of Social Science. The final assembly of the day was a poster session held in the C-MAC in the Jane P. Batten Student Center.
Mickella Rast '19, a senior majoring in communication and English, presented for the Goode School of Arts and Humanities in Blocker Auditorium. Sharing her topic,"'Adults Get Scared': Parental Fears, Liminality, and the Symbolis order in Neil Gaiman's Coraline," provided her with practical experience presenting and speaking in front of an audience.
"Port Day was an exciting and equalizing opportunity for students across disciplines to share their work with the university as a whole," said Rast. "The day brought together students, staff, and faculty from different majors and fields of interest, and joined them through a mutual love for academia."
Senior communication major Cynthia Griffin '19 prepared and shared her topic, "Broken Silence: Restoring Health to Depictions of Cinematic Disability," during the poster session in the C-MAC during the last session of the day.
Port Day is coordinated by VWU's Lighthouse: Center for Exploration & Discovery and is one of the premier initiatives of Virginia Wesleyan's Quality Enhancement Plan, See Change — Sea Change. Lighthouse Executive Director Sara Sewell notes that Port Day reaffirms Virginia Wesleyan's commitment to academic excellence and student success.
"Port Day embodies Virginia Wesleyan's commitment to providing students with opportunities and support that guide them to academic, professional, and personal success," says Sewell. "Virginia Wesleyan takes pride in its student-centered curriculum whereby faculty closely mentor students from their first days on campus all the way through to their senior projects."
Learn more about The Lighthouse: Center for Exploration & Discovery