An Enlightening Tradition
A new Leyland Cypress serves as the centerpiece for annual tree lighting on campus
University News | December 7, 2018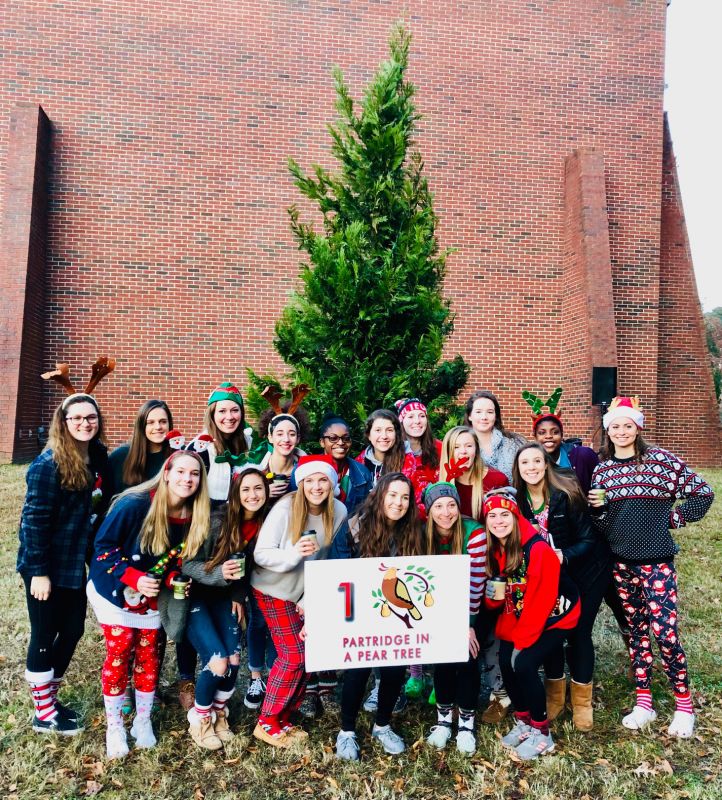 Photo Gallery: Holiday Tree Lighting 2018
There's a new tree on campus this holiday season. A freshly planted 14-foot Leyland Cypress provided the centerpiece for this year's traditional Christmas Tree Lighting, held in a new location on campus—behind Monumental Chapel.
Sponsored by the Office of Student Activities, the annual Holiday Tree Lighting brings together students, faculty, staff, family and friends from the VWU community. The event is held at the end of the fall semester each December.
To begin the festivities, members of the Wesleyan Activities Council welcomed participants with Santa hats, reindeer antlers, hot chocolate, and apple cider as they arrived.
President Scott D. Miller began the program by welcoming those in attendance and thanking those who maintain our beautiful campus and keep it safe.
"During the Christmas season, our thoughts turn gratefully to those who have made our progress at the University possible," said Dr. Miller. "It is in this spirit that we say thank you and best wishes for this most wonderful time of the year."
President Miller told the gathering that the holidays are extra special this year, as the new tree was planted adjacent to the recently completed Beacon. He provided some background about the historic restoration, noting that structural deficiencies made it necessary for the tower to undergo extensive updates. An anonymous donor provided funds for a second structural analysis and ultimately for the complete cost of a new architectural design and renovation.
"The Frank E. Brown Campanile, known to many as 'The Bell Tower,' was constructed in 1975 and became an icon to VWU students," said Dr. Miller. "The new Beacon continues to symbolize Virginia Wesleyan's United Methodist heritage and the passion of those who laid our University's foundation, and also serves as a guiding light for those paving the way for our very promising future."
The President's welcome was followed by a blessing from Chaplain Greg West. Members of the Marlin Music Ministry Team then led the gathering in a candle lighting and the singing of "A Hallelujah Christmas," and "Feliz Navidad." In traditional fashion, student organizations and Marlin athletic teams joined together as singers and sign bearers to perform an entertaining, feisty rendition of "The Twelve Days of Christmas," with each group enthusiastically chiming in during their assigned part.
Assistant Vice President for Student Affairs Jason Seward delighted the crowd with his customary recitation of "Twas the Night Before Finals."
Kate Couch, director of student activities, then announced the winners of the Holiday Spirit Competition and led the countdown to the grand illumination of the 14-foot Leyland Cypress.
After the event, attendees made their way to the holiday feast awaiting them in Boyd Dining Center. Discussions about exams and plans for the holidays and winter break ensued, while back behind Monumental Chapel the large Cypress shone brightly, signaling the start of the holiday season and carrying on this long-time campus tradition.
Read more about Virginia Wesleyan Traditions.