Virginia Wesleyan University Concert Series
Reservations: 757.455.2101
Questions: 757.455.3376
Ticket prices as listed; free to the VWU community. The Series is grateful for the support of the National Endowment for the Arts, the Virginia Commission for the Arts, and the Hugh Dougherty Visiting Artist Endowment.
Feb 25 – 7:30 p.m.
An Evening of Bach
(Hofheimer Theatre)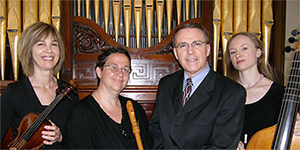 Chorale cantatas, Johann Sebastian Bach's gift to the Christian Church, fill an evening where the audience becomes the 'congregation' to sing the chorales.   The Wren Masters, the faculty baroque ensemble of the College of William and Mary, join soloists Billye Brown Youmans, soprano, Charles Humphries, counter-tenor, Douglas Lynch, tenor, and Jeremy Yoder, bass, with VWU's Vox Vera and Camerata; Dr. Bryson Mortensen, conductor.   Cantata78 – "Jesu, der du meine Seele"  (Jesus, you are my soul), Cantata 54 – "Widerstehe doch der Sünde" (Resist the Sin), and Cantata 140 – "Wachet auf, ruft uns die Stimme"  (Awake, the Voice is calling us).  
(co-sponsored by the Center for Sacred Music)
April 1 - 7:30 p.m.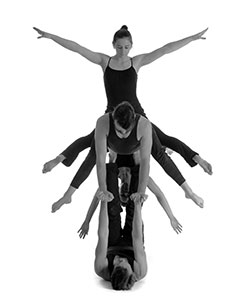 Aura CuriAtlas
(Goode Fine and Performing Arts Center)
Blending dance, theatre, and acrobatics to tell stories, the company keeps the qualities of lightness (Aura), strength (Atlas), and play (Curiosity) at the center.  Lightheartedness, athleticism, and physical storytelling mark their delightful performances.
 ($15; $10)
April 16 - 7:30 p.m.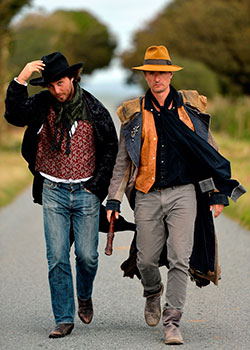 Wild Men of the Seicento
(Goode Fine and Performing Arts Center)
This stunning performance featuring Red Priest's Piers Adams (recorder) and David Wright (harpsichord) focuses on the extraordinary, trailblazing music of the Seicento—the 17th Century.  Frequently overlooked nowadays in favor of the baroque 'household names' who followed, the musicians of the Seicento were truly innovative—surprising, expressive, quirky and often demonically virtuosic. Adams follows historical precedent adapting the music for his arsenal of recorders.
($15; $10)
"An action-packed recital... they storm their way through thickets of keyboard batteries, recorder roulades and all manner of technical devilry with superhuman virtuosity, a laughing recklessness, and style you can't buy" (Gramaphone)
April 24 – 7:30 p.m.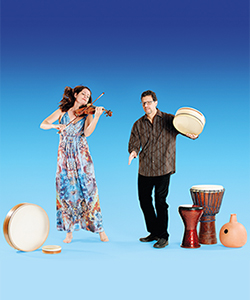 duoJalal
(Goode Fine and Performing Arts Center)
Classically trained Australian violist Kathryn Lockwood, a member of the renowned Lark Quartet, embodies a gypsy violinist one minute and a Middle Eastern reed flute in the next. Lebanese Yousif Sheronick, percussion, has been hailed by the New York Times for "dazzling improvisations," and his "wizardry on a range of humble frame drums." 
($15; $10)
"Fearless seekers and synthesizers of disparate instruments and cultures." (Toronto Star).  "An exhilarating sonic and somewhat mystical experience." (Jordon Times)  
April 29 – 7:30 p.m.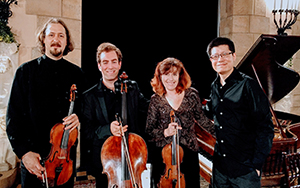 St. Petersburg Piano Quartet
(Goode Fine and Performing Arts Center)
The Grammy-nominated piano quartet, winner of numerous top prizes at chamber music competitions in Melbourne, Tokyo, and Florence, and praised throughout North and South America, Europe, and Asia, features Alla Aranovskaya, violin; Boris Vayner, viola; Thomas Mesa, cello; and Tao Lin, piano.
($20; $15)
"Sparkling, elegant, and flawlessly performed."   (Palm Beach Daily News)
"You might think that discipline, passion and impetuousness inhabit different universes, but the St. Petersburg Quartet has morphed the three into a powerful musical persona.  Unassailable technique and intonation . . . an astonishingly calibrated range of voicings and dynamics with breathtaking assurance and laugh-out-loud wit."  (Washington Post)
"Bliss, for this listener, doesn't get much more unequivocal than this quartet's performance." (Toronto Globe and Mail)
"Virtuosic and sumptuous-toned."  (London Sunday Times)
May 8 – 6:30 -7:30 p.m.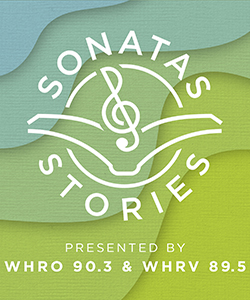 Sonatas and Stories
(Goode Fine and Performing Arts Center)
WHRO 90.3-FM and WHRV 89.5-FM present an evening of classical music, poetry, and storytelling featuring outstanding local writers and performers, with hosts Barry Graham and Wayla Chambo. 
(Refreshments, Cash bar; doors open at 6:00pm.  Free)
May 12 - 4:00 p.m.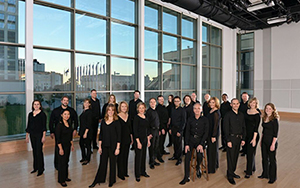 "Pioneering Voices: Celebrating Women Composers"
(Goode Fine and Performing Arts Center)
The Virginia Chorale with Charles Woodward, artistic director, celebrates its 35th anniversary with a tribute to women composers  including works by Hildegard von Bingen, Fanny Mendelssohn Hensel, Lili Boulanger, and the legendary Alice Parker.  Flautist Debra Wendells Cross, and pianists Stephen Coxe and Rebecca Raydo collaborate. 
Tickets ($25; $10-students):  757.627.8375 or info@virginiachorale.org.  
May 23 - 7:30 p.m.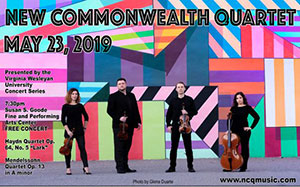 New Commonwealth Quartet
(Goode Fine and Performing Arts Center)
The region's newest string quartet, New Commonwealth Quartet, presents a free concert on Thursday, May 23, at 7:30 p.m. in the Goode Fine and Performing Arts Center. Includes Haydn's "Lark" Quartet, Op. 64, No. 5, and Mendelssohn's A minor Quartet, Op. 13. The ensemble includes Elizabeth Vonderheide (violin), Jonathan Richards (violin), Matthew Umlauf (viola), and Elizabeth Richards (cello). Free; no reservations required.
Free; no reservations required.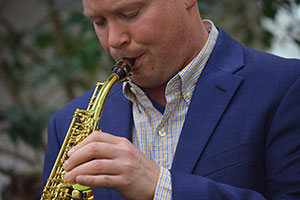 Goode Jazz
(Goode Fine and Performing Arts Center)
VWU professor Jason Squinobal (saxophone) is joined by Will McPeters (string bass) and Dennis Northerner (percussion) in a free informal evening of light jazz standards and new works on Friday, June 7, in the Goode Fine and Performing Arts Center. Snacks and cash bar at 6:45 p.m., music begins at 7:00 p.m. Enjoy a casual evening in the glass-enclosed gallery as the sun sets over the VWU "front lawn." Grab a drink, find a table, and enjoy music and conversation with friends. Free; no reservations required.