Virginia Wesleyan University Concert Series
No fall events will occur as we await the completion of the
Susan S. Goode Center for the Fine and Performing Arts.
---
Reservations: 757.455.2101
Questions: 757.455.3376
Brochure
All performances take place in Hofheimer Theater.  Ticket prices as listed; free to the VWC community.   The Series is grateful for the support of the Hugh Dougherty Visiting Artist Endowment and the Virginia Commission for the Arts.
February 11, 2019 - 7:30 p.m.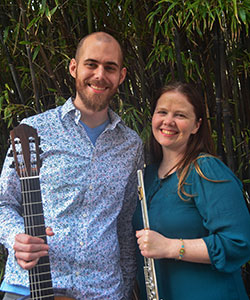 Duo Thalasse
Wayla Chambo, flute, and Todd Holcomb, guitar, perform works by J.S. Bach, Astor Piazzolla, Robert Beaser, and more.  Chambo is known both as performer and as classical radio host for WHRO-FM. Holcomb has been awarded top prizes in multiple international competitions as soloist and ensemble member, and is part of the Performing Artist Faculty at VWU.  ($15; $10)
Feb 25, 2019 – 7:30 p.m.
An Evening of Bach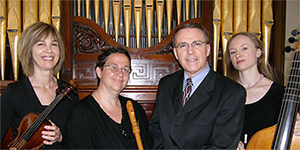 Chorale cantatas, Johann Sebastian Bach's gift to the Christian Church, fill an evening where the audience becomes the 'congregation' to sing the chorales.   The Wren Masters, the faculty baroque ensemble of the College of William and Mary, join soloists Billye Brown Youmans, soprano, Charles Humphries, counter-tenor, Douglas Lynch, tenor, and Jeremy Yoder, bass, with VWU's Vox Vera and Camerata; Dr. Bryson Mortensen, conductor.   Cantata78 – "Jesu, der du meine Seele"  (Jesus, you are my soul), Cantata 54 – "Widerstehe doch der Sünde" (Resist the Sin), and Cantata 140 – "Wachet auf, ruft uns die Stimme"  (Awake, the Voice is calling us).  
(co-sponsored by the Center for Sacred Music)
April 1, 2019 - 7:30 p.m.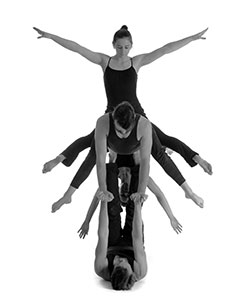 Aura CuriAtlas
Blending dance, theatre, and acrobatics to tell stories, the company keeps the qualities of lightness (Aura), strength (Atlas), and play (Curiosity) at the center.  Lightheartedness, athleticism, and physical storytelling mark their delightful performances.  ($15; $10)
April 16, 2019 - 7:30 p.m.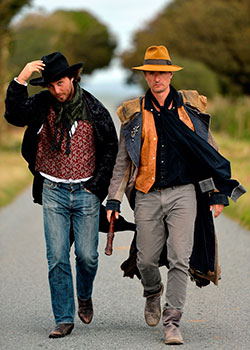 Wild Men of the Seicento
Piers Adams, recorder, and David Wright, harpsichord, take us on a surreal journey of the 17th century musical world where fantasy and invention ruled over form and formality. Works by Castello, Fontana, Salaverde, Biber, Bull, and Corelli.   Adams follows historical precedent adapting the music for his arsenal of recorders.  ($15; $10)
"The things Adams does with his collection of recorders defy the imagination."  (International Record Review)    "Astonishing virtuosity!" (Gramaphone)
April 24, 2019 – 7:30 p.m.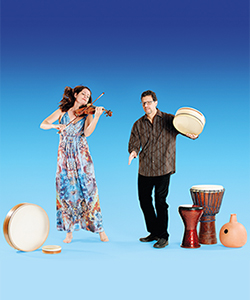 duoJalal
Classically trained Australian violist Kathryn Lockwood, a member of the renowned Lark Quartet, embodies a gypsy violinist one minute and a Middle Eastern reed flute in the next. Lebanese Yousif Sheronick, percussion, has been hailed by the New York Times for "dazzling improvisations," and his "wizardry on a range of humble frame drums."  ($15; $10)
"Fearless seekers and synthesizers of disparate instruments and cultures." (Toronto Star).  "An exhilarating sonic and somewhat mystical experience." (Jordon Times)  
April 29, 2019 – 7:30 p.m.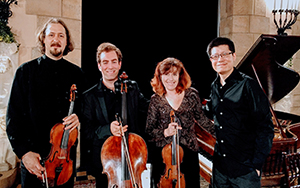 St. Petersburg Piano Quartet
The Grammy-nominated piano quartet, winner of numerous top prizes at chamber music competitions in Melbourne, Tokyo, and Florence, and praised throughout North and South America, Europe, and Asia, features Alla Aranovskaya, violin; Boris Vayner, viola; Thomas Mesa, cello; and Tao Lin, piano.   ($20; $15)
"Sparkling, elegant, and flawlessly performed."   (Palm Beach Daily News)
"You might think that discipline, passion and impetuousness inhabit different universes, but the St. Petersburg Quartet has morphed the three into a powerful musical persona.  Unassailable technique and intonation . . . an astonishingly calibrated range of voicings and dynamics with breathtaking assurance and laugh-out-loud wit."  (Washington Post)
"Bliss, for this listener, doesn't get much more unequivocal than this quartet's performance." (Toronto Globe and Mail)
"Virtuosic and sumptuous-toned."  (London Sunday Times)
May 3, 2019 – 7:30 p.m.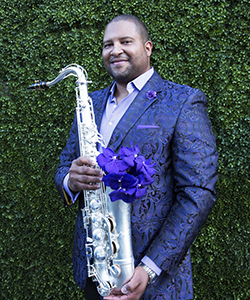 Jimmy Greene Quartet
One of the most respected saxophonists of his generation, Greene's quartet performs regularly in jazz venues worldwide including NYC, Moscow, Rome, Paris, Israel, Uruguay, and Brazil, and Greene appears on 75 albums as both sideman and featured artist.  Grammy nominated saxophonist, composer, and arranger, Greene's two most recent albums "Beautiful" and "Flowers" celebrate the life of his 6-year daughter, Ana, who was murdered at Sandy Hook Elementary in 2012 with 25 other children educators.   ($20; $15)
"He's good for a couple body chills every time you see him. He's got a big barrelhouse sound, and a way of negotiating changes that make academic moves seem natural."  (Village Voice).   
May 8, 2019 – 6:30 -7:30 p.m. (Goode)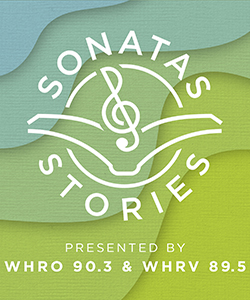 Sonatas and Stories
WHRO 90.3-FM and WHRV 89.5-FM present an evening of classical music, poetry, and storytelling featuring outstanding local writers and performers, with hosts Barry Graham and Wayla Chambo.  (Refreshments, Cash bar; doors open at 6:00pm.  Free)
May 12, 2019 - 4:00 p.m.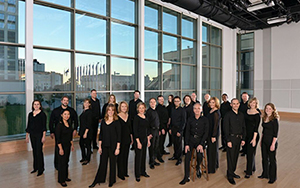 "Pioneering Voices: Celebrating Women Composers"
The Virginia Chorale with Charles Woodward, artistic director, celebrates its 35th anniversary with a tribute to women composers  including works by Hildegard von Bingen, Fanny Mendelssohn Hensel, Lili Boulanger, and the legendary Alice Parker.  Flautist Debra Wendells Cross, and pianists Stephen Coxe and Rebecca Raydo collaborate.  Tickets ($25; $10-students):  757.627.8375 or info@virginiachorale.org.