Kenneth R. Perry Dean of the Joan P. Brock School of Mathematics and Natural Sciences
Dr. J. Christopher Haley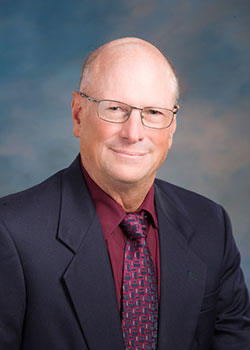 Dr. J. Christopher Haley is the Kenneth R. Perry Dean of the Joan P. Brock School of Mathematics and Natural Sciences at Virginia Wesleyan University. He received his Ph.D. from Johns Hopkins and his B.Sc. from Washington and Lee. He has served as Chair of the Division of Natural Sciences and Mathematics and as the coordinator of the Earth and Environmental Sciences Department, which he helped to found. Prior to his arrival at Virginia Wesleyan, he taught at Miami University (Ohio), and during the summer, he continues to serve as the Assistant Director of Miami's Geological Field Station in Wyoming. He teaches geology courses at Virginia Wesleyan as well as the course in Geographic Information Systems (GIS).
The use of GIS in geologic mapping and earth science education is a primary interest of Dr. Haley's, and he received funding from the US Geological Survey to have students use GIS to update the mapping of southwestern Montana. He has also been an author on three awards from the National Science foundation, to fund the renovation of Virginia Wesleyan's Blocker Hall science laboratories, to obtain a Scanning Electron Microscope with an Elemental Detection System (SEM-EDS), and to outfit a GIS lab. The SEM-EDS has been utilized in his recent research involving Virginia Wesleyan undergraduates, allowing them to determine the elemental composition of various geological samples.
Dr. Haley lives in Portsmouth with his wife, Helena Russell.